Remembrance Day
Year 3/4 produced some stunning artwork and wrote some beautiful poetry, to commemorate Remembrance Day.
Times table skills - UKS2
Year 5 and 6 showing off their times table skills whilst shooting down their opponent's "Space Ships".
Meeting Local Author - Sue Palmer
On Tuesday we were lucky to meet the local author Sue Palmer who has written books about a boy being selected for a space mission. She explained how her love of space had arisen from the research for her book and shared some interesting facts about the ISS and the requirements for being an astronaut. The author asked us lots of questions about space and we were very enthusiastic with our answers. Prizes were given to some children whose year group had supplied the most responses and the children were able to purchase signed copies of Mrs Palmer's books.
Young Voices Concert at the O2 Arena on London
Mrs Garner and the Bearwood Choir attended the Young Voices concert at the O2 Arena. The children had an amazing time and flew the banner for Bearwood.
Nursery Christmas Party
The Nursery children had a fun-filled Christmas party and even had a visit from one of the Elves from the National Elf Service.
Open the Book
Reverend Warren and his team retold the Christmas story to our pupils. The children are really engaged in these assemblies and enjoy the re-enactment of these Christian stories.
Foundation Stage Show
The story of the Nativity was brought to life by our Foundation Stage pupils. Both the shows were well attended by our families, who all commented on how much they enjoyed the show and the songs. We invited guests from Lord Harris Court and they too enjoyed the retelling of the Christmas story and being part of our school community.
The Sugar Plum Fairy
KS1 pupils danced, sang ad acted their hearts out in this special Christmas show! What superstars we have and what talented actors!
Bollywood Dancing
Foundation Stage and KS1 enjoyed some Bollywood dancing, with our own Mrs Tyagi! The children loved learning a different way of dancing!
Christmas Assembly
Our Autumn Term ended with a whole school assembly to celebrate the meaning of Christmas. Reverend and Mrs Warren joined our school and everyone in school took part in our special end of term reflection time.
Christmas Dinner Day
The children had a fun and festive Christmas Dinner with Christmas music playing and all staff joining in the festivities. The children had made Christmas hats and wore their Christmas jumpers for Christmas Jumper Day. The day was rounded off with 'Carols in the Playground' and then 'Winnersh Lights', where the school choir sang and some of our musicians played the recorders and the keyboards.
Music Maestros
Bearwood definitely has got talent! Pupils have been sharing their musical talents with the rest of the school by playing the entry and exit music for assemblies. We have had recorders, piano, trombone and we will shortly have a clarinet ensemble when our Y4 pupils are ready to showcase their learning following their lessons with Berkshire Maestros.
Play Makers Award
USports has been working with our Year 6 pupils to help them become Play Makers. This teaches the children learn how to support positive play and they work with younger pupils to put these skills into practice.
Dance workshops
Teachers and pupils have been extending their learning with dance workshops from USports. Viking dances, marching and war dances have all been part of the learning. Keeeeeep dancing!
Year 3 and 4 Science Visitor
Mr Juna came in to speak to the children about building circuits and how electricity works. Thank you Mr Juna!
Anti-bullying Week
The whole school focused on anti-bullying during Anti-Bullying Week. Online safety and online bullying was talked about in all classes and parents were sent informed about how to keep their children safe online.
School Council
Mrs Marinoni met with the School Council to discuss their concerns. They shared questions about their lessons, the tuck shop and the playground. Mrs Marinoni will continue to meet with them to further discuss their issues.
Children In Need
The Coin Challenge proved to be very popular! The longest length of coins was in Miss Bahra's class - 54 m!
Remembrance Assembly
Reverend Warren from St Catherine's and St Mary's Churches led our Remembrance Assembly. Everyone made a poppy and we created a beautiful display with them all. Children reflected on the commemoration of the end of the First World War and also remembered those who are still living through wars.
Year 3 and 4 Learning Experience
Parents and Grandparents joined the children to share in the learning they have been doing. It was a very busy afternoon learning about Vikings and helping with papier mache'.
Viking Day
On Thursday 1st November, Y3/4 had a chance to go back in time to the Viking era. All the children looked very vicious in their costumes, which included some highly original prop ideas!
The children had a wonderful day, completing lots of different hands-on activities. These included making Viking Bread, rowing with a professional GB Rower, digging for Viking artifacts, designing shields, decoding Runic messages and problem solving.
Year 5 and 6 visit to The Imperial War Museum
Year 5 and 6 have been learning about World War 1 and visited this museum in London to extend their learning. They were amazed that they even saw Edith Cavell's nursing cap among the exhibits.
Viking Day
Year 3 and 4 became Vikings for the day! They made Viking bread, made round houses and learned to row like Vikings.
Years 5 and 6 Learning Walks
Our Year 5 and 6 pupils enjoyed taking their learning outside. They walked to the woods by St Catherine's Church and really engaged with their Science and Art Topics.
Grandparents' Day
Our pupils enjoyed welcoming their grandparents into their classrooms. They proudly showed off all their hard work and invited their grandparents to join in with some of their learning.
Harvest Festival
This year we have been collecting for the Wokingham Food Bank. The whole school enjoyed a Harvest Assembly led by Reverend Warren.
We will Rock You
UKS2 totally rocked Bearwood Primary School and took the roof off, with their sensational performance of We Will Rock You! Well done Everyone!
UKS2 Darwin's Delight Day
Our Year 5 and 6 pupils had an amazing opportunity to take part in a hands-on workshop, led by zoologist Jules Howard. They learnt about evolution, what Darwin discovered and how that changed science forever. They also investigated fossils and a host of articulated mammal skeletons.
UKS2 Victorian Day
Our Year 5 and 6 pupils enjoyed experiencing school life in the Victorian era. They all looked very authentic dressed as Victorian children. Their lessons included very strict handwriting and maths lessons as well as a lesson on patriotism where they sang God Save the Queen whilst standing at attention with their hats removed.
WASMA 2018
Even though this event happened in March we have just received the official photos. The choir had a fantastic day rehearsing and performing along with many other schools. Everyone involved said it was quite an occasion. Well done to our choir, soloists, actors and dancers. Roll on WASMA 2019!
Mummy Mummy Mummy
Well done to our LKS2 pupils who worked very hard and put on an excellent performance of 'Mummy Mummy Mummy'.
Outstanding Events Day
Our Year 5 pupils enjoyed a day trying out some new and unsual sports. Their biggest challenge was the climbing wall which they tackled with confidence. They also had the opportunity to try Fencing, Archery and Aeroball, as well as taking part in a Construction Challenge.
Quirk's Animal Roadshow
In KS1, Quirk's Animal Roadshow paid a visit bringing with them lots of different animals from around the world. The children were able to meet, stroke and hold the animals such as; Flame the Bearded Dragon and Peter, the Giant Rabbit. Luke talked to the children about how the animals adapt to suit their environment and he also told them what the animals like to eat. The children extended their learning by completing basic food chains.
District Sports
We had a great day competing against other Wokingham Schools at the Palmer Park Stadium. We were very proud of our team, who showed great effort with outstanding behaviour throughout the day.
Maypole Dancing at the Winnersh Fair
Our Year 5 and 6 pupils were invited to take part in this year's Winnersh Fair. They worked extremely hard to learn two dances in a very short period of time. The result was two perfectly performed Maypole Dances.
Recorder Club
Our lunchtime Recorder Club has enjoyed a very successful year acquiring new skills and learning new musical pieces.
Key Stage One Trip to Legoland
In KS1, the children were very lucky to go on a school trip to LEGOLAND! This tied in with the Lego and Engineering topic with a focus on London Landmarks also. The children participated in a Forces workshop and were also able to explore the different models made out of Lego around the park. We wonder who will be our next famous engineer?!
Foundation Stage Sports Day
The children used their determination to do their best in all of their running races. Even the parents had a race! The morning ended with a gold medal celebration for all. In the afternoon, Reception continued their Sports Day by competing in sack, egg and spoon and rocket races. A fun day was had by all.
Cookery Club
This term we have been exploring worlds foods and have enjoyed making Greek Salads, Eton Mess and Mexican Peppers.
Foundation Stage Police Visit
Foundation Stage have been learning all about people who help them. They sat in the van and then tried on the police officer's helmets. The sirens were the most exciting part of the day - and they were very loud!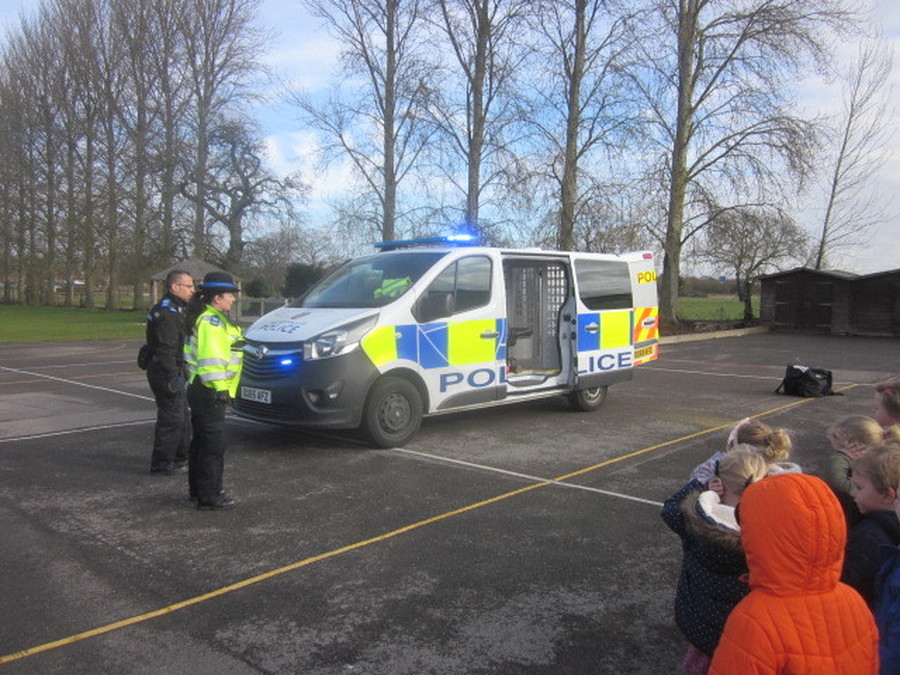 Key Stage 1 Learning Experience
The KS1 children had an enjoyable time with their families during the Learning Experience afternoon. They were proud to show off what they had been learning for their China topic. We hope you had fun making recycled paper and dragon puppets! We are sure that you were also impressed by the children's ribbon dancing skills!​
Lower Key Stage Two Learning Experience
The Learning Experience Afternoon was a brilliant afternoon! There were smiles across everyone's faces. Within Year 3, the children were investigating whether taller people jump further than shorter people for their Science Topic. This meant that the parents' height and long jump distances were measured ready to be analysed this week. In Year 4, the children were creating their very own Roman coins! Thank you to all the parents for attending and being good sports. It was lovely to see all the parents, guardians and children having fun together.
Key Stage One Chinese Ribbon Workshop
As part of their topic on China KS1 were treated to a Chinese Ribbon dancing workshop. Everyone enjoyed getting creative and dancing with the long, colourful ribbons.
Skipping Workshop
On Thursday 11 January pupils from Reception through to Year 6 all enjoyed a Skipping Workshop. They were taught basic skipping as well as how to speed skip and cross skip. Some of the children enjoyed learning how to 'double-dutch' skip during their lunch break. We finished the day with a fantastic show, with the children performing some of their new skills. It is lovely to see the children continuing to enjoy skipping during break times.
Bearwood Christmas Lunch
On Friday we all enjoyed a fantastic Bearwood Family Christmas Lunch together. Our delicious lunch was followed by a round of Christmas songs and everyone looked very festive. A huge thank you to the kitchen for preparing such a delicious meal and also to everyone who helped to set up and organise the lunch.
Carols in the Courts
The school choir were very pleased to be invited to join St Sebastian's Band and the Rainbow Park Residents Association for their annual Carol Singing. Beginning at Harman's Court, we made our way around stopping to entertain the residents with our singing before ending at the community centre for mince pies and hot drinks. Everyone sang enthusiastically despite the rain and it was a very festive evening.
Lord Harris Court
On Wednesday 13 December, the school choir visited Lord Harris Court in Sindlesham. Lord Harris Court is a residential home for the elderly. The children sang Christmas songs and carols for the residents and then took the opportunity to talk to them whilst enjoying some refreshments. This is a wonderful opportunity for everyone involved.
Macmillan Befriending Volunteers Christmas Lunch
The school choir were very honoured on Monday to be invited to sing for a wonderful team of Macmillan Befriending Volunteers who visit people in Berkshire who are isolated or lonely and have cancer. The short concert was held at St Mary's Church in Winnersh after a special thank you lunch given by Macmillan. Not only did the choir sing, but they also presented each volunteer with a Christmas Bell decorated by our talented Year 6. The volunteers were very touched by the event and made some lovely comments about the children.
"The choir from Bearwood School was a complete surprise and an absolute delight. What a kind thing to have done for us - braving the chilly church - and my Christmas decoration has now special meaning and memories!"
"The choir was such a lovely surprise and took me right back to primary school!"
"The Bearwood choir was the icing on the cake!"
Odd Sock Day
As part of Anti-Bullying Week, the children and staff were invited to wear odd socks for the day. As well as this being a fun event, it also helped us to focus on how we treat each other and a reminder that we are all unique but have equal worth. A big thank you to Miss Tranmer for organising this.
Image Theatre - Hansel and Gretal
On Friday 10 November, the Image Theatre Company came to give the whole school a special treat. Their production this time was Hansel and Gretal. Some of the children got involved in the acting whilst everyone else joined in with the singing. It was a fantastic show and we can't wait for the next one.
UKS2 Trip – Winchester Science Centre
During our trip, to the Winchester Science Centre, children were able to explore over a hundred interactive, hands-on Science exhibits, some of which focused on the Science of sport. In addition to this, we had an engaging Planetarium experience (Flight through the Universe) teaching us more both our Solar System, and beyond.
UKS2 Learning Experience
Our Years 5 and 6 parents enjoyed an afternoon learning all about Art. Year 5 have been studying the work of Kandinsky and Year 6 have been studying the work of Salvador Dali. Both classes successfully recreated a masterpiece of their own, using various media.
Celtic and Roman Day
As part of our topic on Early Britain Year 3 and 4 had a visit from the hilarious Hobgoblin Theatre Company. Their performance called "The Wall" was all about how the Romans and the Celts lived together. We all really enjoyed it especially the dressing up. (Oliver Year 3)
Diwali Celebrations
Before half term KS1 celebrated Diwali. The children explored the celebration of Diwali throughout the day by participating in various activities. They learnt the story of Rama and Sita, carrying out some role-play in groups and sharing their performances with the class. During the afternoon with some help from parents, the children participated in art activities such as Rangoli patterning, made some barfi and also learnt Bollywood dance moves! It was lovely to see some of the children in their traditional dress.
Parents' afternoon for Reception children
The staff and children were excited to welcome parents for a tour of their learning environment in September. The children in Reception thoroughly enjoyed having their parents visit them in school. They were proud to show off their classroom and explain all of the different things they do in school. It was a fantastic turn out of parents. Thank you for your continued support and we hope you enjoyed the afternoon too!