Foundation Stage Police Visit
Foundation Stage have been learning all about people who help them. They sat in the van and then tried on the police officer's helmets. The sirens were the most exciting part of the day - and they were very loud!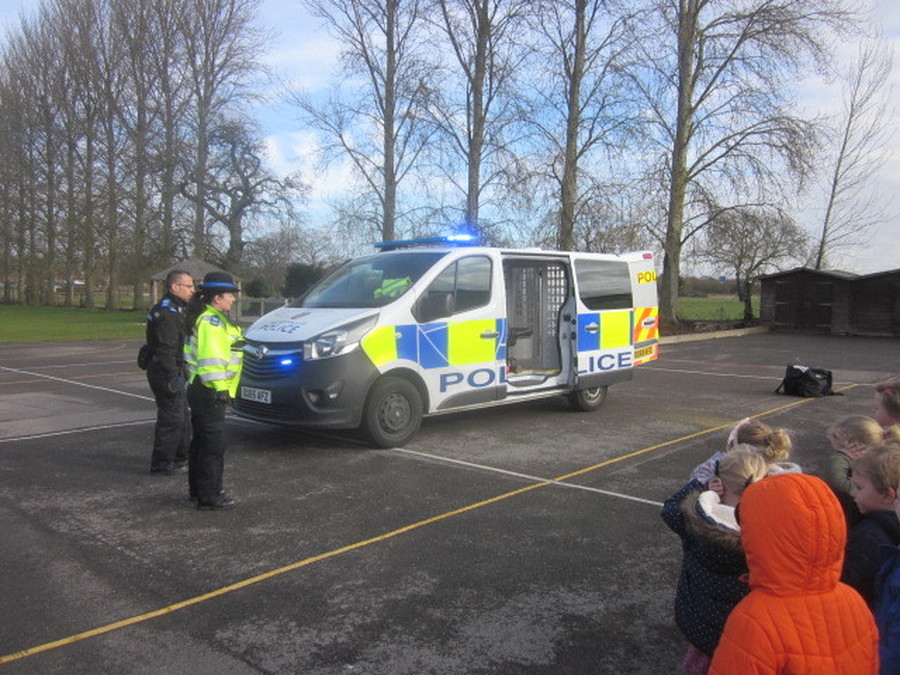 The KS1 children had an enjoyable time with their families during the Learning Experience afternoon. They were proud to show off what they had been learning for their China topic. We hope you had fun making recycled paper and dragon puppets! We are sure that you were also impressed by the children's ribbon dancing skills!​
Lower Key Stage Two Learning Experience
The Learning Experience Afternoon was a brilliant afternoon! There were smiles across everyone's faces. Within Year 3, the children were investigating whether taller people jump further than shorter people for their Science Topic. This meant that the parents' height and long jump distances were measured ready to be analysed this week. In Year 4, the children were creating their very own Roman coins! Thank you to all the parents for attending and being good sports. It was lovely to see all the parents, guardians and children having fun together.
Key Stage One Chinese Ribbon Workshop
As part of their topic on China KS1 were treated to a Chinese Ribbon dancing workshop. Everyone enjoyed getting creative and dancing with the long, colourful ribbons.
Skipping Workshop
On Thursday 11 January pupils from Reception through to Year 6 all enjoyed a Skipping Workshop. They were taught basic skipping as well as how to speed skip and cross skip. Some of the children enjoyed learning how to 'double-dutch' skip during their lunch break. We finished the day with a fantastic show, with the children performing some of their new skills. It is lovely to see the children continuing to enjoy skipping during break times.
Bearwood Christmas Lunch
On Friday we all enjoyed a fantastic Bearwood Family Christmas Lunch together. Our delicious lunch was followed by a round of Christmas songs and everyone looked very festive. A huge thank you to the kitchen for preparing such a delicious meal and also to everyone who helped to set up and organise the lunch.
Carols in the Courts
The school choir were very pleased to be invited to join St Sebastian's Band and the Rainbow Park Residents Association for their annual Carol Singing. Beginning at Harman's Court, we made our way around stopping to entertain the residents with our singing before ending at the community centre for mince pies and hot drinks. Everyone sang enthusiastically despite the rain and it was a very festive evening.
Lord Harris Court
On Wednesday 13 December, the school choir visited Lord Harris Court in Sindlesham. Lord Harris Court is a residential home for the elderly. The children sang Christmas songs and carols for the residents and then took the opportunity to talk to them whilst enjoying some refreshments. This is a wonderful opportunity for everyone involved.
Macmillan Befriending Volunteers Christmas Lunch
The school choir were very honoured on Monday to be invited to sing for a wonderful team of Macmillan Befriending Volunteers who visit people in Berkshire who are isolated or lonely and have cancer. The short concert was held at St Mary's Church in Winnersh after a special thank you lunch given by Macmillan. Not only did the choir sing, but they also presented each volunteer with a Christmas Bell decorated by our talented Year 6. The volunteers were very touched by the event and made some lovely comments about the children.
"The choir from Bearwood School was a complete surprise and an absolute delight. What a kind thing to have done for us - braving the chilly church - and my Christmas decoration has now special meaning and memories!"
"The choir was such a lovely surprise and took me right back to primary school!"
"The Bearwood choir was the icing on the cake!"
Odd Sock Day
As part of Anti-Bullying Week, the children and staff were invited to wear odd socks for the day. As well as this being a fun event, it also helped us to focus on how we treat each other and a reminder that we are all unique but have equal worth. A big thank you to Miss Tranmer for organising this.
Image Theatre - Hansel and Gretal
On Friday 10 November, the Image Theatre Company came to give the whole school a special treat. Their production this time was Hansel and Gretal. Some of the children got involved in the acting whilst everyone else joined in with the singing. It was a fantastic show and we can't wait for the next one.
UKS2 Trip – Winchester Science Centre
During our trip, to the Winchester Science Centre, children were able to explore over a hundred interactive, hands-on Science exhibits, some of which focused on the Science of sport. In addition to this, we had an engaging Planetarium experience (Flight through the Universe) teaching us more both our Solar System, and beyond.
UKS2 Learning Experience
Our Years 5 and 6 parents enjoyed an afternoon learning all about Art. Year 5 have been studying the work of Kandinsky and Year 6 have been studying the work of Salvador Dali. Both classes successfully recreated a masterpiece of their own, using various media.
Celtic and Roman Day
As part of our topic on Early Britain Year 3 and 4 had a visit from the hilarious Hobgoblin Theatre Company. Their performance called "The Wall" was all about how the Romans and the Celts lived together. We all really enjoyed it especially the dressing up. (Oliver Year 3)
Diwali Celebrations
Before half term KS1 celebrated Diwali. The children explored the celebration of Diwali throughout the day by participating in various activities. They learnt the story of Rama and Sita, carrying out some role-play in groups and sharing their performances with the class. During the afternoon with some help from parents, the children participated in art activities such as Rangoli patterning, made some barfi and also learnt Bollywood dance moves! It was lovely to see some of the children in their traditional dress.
Parents' afternoon for Reception children
The staff and children were excited to welcome parents for a tour of their learning environment in September. The children in Reception thoroughly enjoyed having their parents visit them in school. They were proud to show off their classroom and explain all of the different things they do in school. It was a fantastic turn out of parents. Thank you for your continued support and we hope you enjoyed the afternoon too!
Maths Morning
On Wednesday 11 October, our parents were invited to come and take part in our Maths lessons. This gave them an insight into how Maths is taught at Bearwood and was an opportunity for them to get involved and ask questions. Everyone was keen to have a go and the children enjoyed challenging their parents.
Grandparents' Afternoon
On Friday 29 September our grandparents came to spend some time in our classrooms. They got to see our work and take part in some learning activities. Everyone said they had a great afternoon.
Harvest
We recently celebrated Harvest with an assembly and collection for the Wokingham Food Bank. We were joined by our local vicar Reverend Michael Johnson. During the assembly we talked about why harvest is important and how we benefit from the goods the farmers harvest as well as practical ways we can help those less fortunate than ourselves.
Year 6 Leavers Assembly and Mr Bell's Fruit Challenge!
As we bid a find farewell to our Year 6, they shared with us their best memories of Bearwood and sang some favourite songs.
After finding out recently that Mr Bell has never eaten any fruit, Mrs Barlow challenged him to a fruit eating challenge to win sweets and crisps for the Year 6 leavers, Mr Bell did manage to eat some apricot and had a taste of passion fruit. He did however turn rather pale when presented with a physalis! Well done to Oscar and Simran who saved the day and ate it for him!
Year 6 Leavers' BBQ
The Year 6 Leavers' BBQ was a roaring success, the children enjoyed a game of skittles before we were joined by the parents for a BBQ and fun on the field, the photo booth was as popular as always. Luckily the rain held off until we moved in to the hall for certificates and songs.
Fred in the Shed
The whole school were treated to "Fred in the Shed" on Wednesday 19th July, he was hilarious and everyone had a wonderful time and laughed a lot! A special well done to Mr Bell for being such a good sport, and a big thank you to the Tuck shop organiser Mr Barlow and his very able assistants Aamir and Danuel and, to everyone who purchased items to help raise the funds required.
Bearwood on Broadway
Our KS2 show this year was a huge success, the children and staff had a wonderful time entertaining you all, we hope you enjoyed it as much as we did. We would also like to say a huge thank you to everyone who bought tickets, refreshments and donated to our collection buckets, we raised a massive £925 to go towards items needed for school.
Ted Cooke Football Match
A huge well done to the Year 3, 4 and 5 children for winning against the Year 6 team for only the second time ever! It was a great match and the whole school thoroughly enjoyed watching the game. This is a football game in honour of Edward (Ted) Cooke who was a governor for many years.
Year 5 Activity Day
The Year 5 and 6 children who did not attend Fairthorne, had a wonderful Activity Day on 18th May 2017, climbing the rock wall, learning archery, fencing aero-ball and team building activities. Luckily for us the sun shone all day.
Quirks Animal Roadshow
On Friday 12th May, KS1 and Foundation Stage had a visit from quirks animal roadshow. The children had a wonderful time learning about a variety of animals, those who were brave enough touched snakes, frogs lizards, spiders and one rather large rabbit.
Singing in the Rain
Our School Choir have been very busy over the last few weeks preparing a fabulous rendition of many popular songs over the years, one of them being 'Singing in the Rain'. The choir along with many other schools performed the songs at The Hexagon in Reading. Some of the choir also danced to 'Singing in the Rain'.
Last week was British Science Week (10th – 19th March) and schools across the nation celebrated Science. The theme was 'Changes', it was investigating the changes happening in the world all around us; from seasons and climate to materials and energy. On Thursday 16th, the entire school devoted a whole day to all things related to Science. Parents were also able to join their children to participate in fun, practical activities in the afternoon.
Our special thanks go to Mrs Bruce, for kindly donating prizes for our in-house Science competition, and to Dr Leadley for his fascinating talk, to UKS2, about glass.
Police Community Support Officer
In KS1 we had a visit from a Police Community Support Officer (PCSO) She talked about her job as a PCSO and also how to keep yourself safe when crossing the road. She also reminded us about the importance of wearing bike helmets. The children got to be PCSOs by trying on her uniform.